Debian's Central Role in the Future of Software Freedom
Bradley M. Kuhn
Saturday 15 August 2015
First Things First.
I'm honored to be here.

I'm not just saying that, I don't say that at every conference.

It's my third DebConf (attended DebConf1, gave a regular track talk at DebConf10, and now I'm here as Invited Speaker.)

In the simplest terms: I'm a fan and user of Debian: I love your project.
It's This Simple!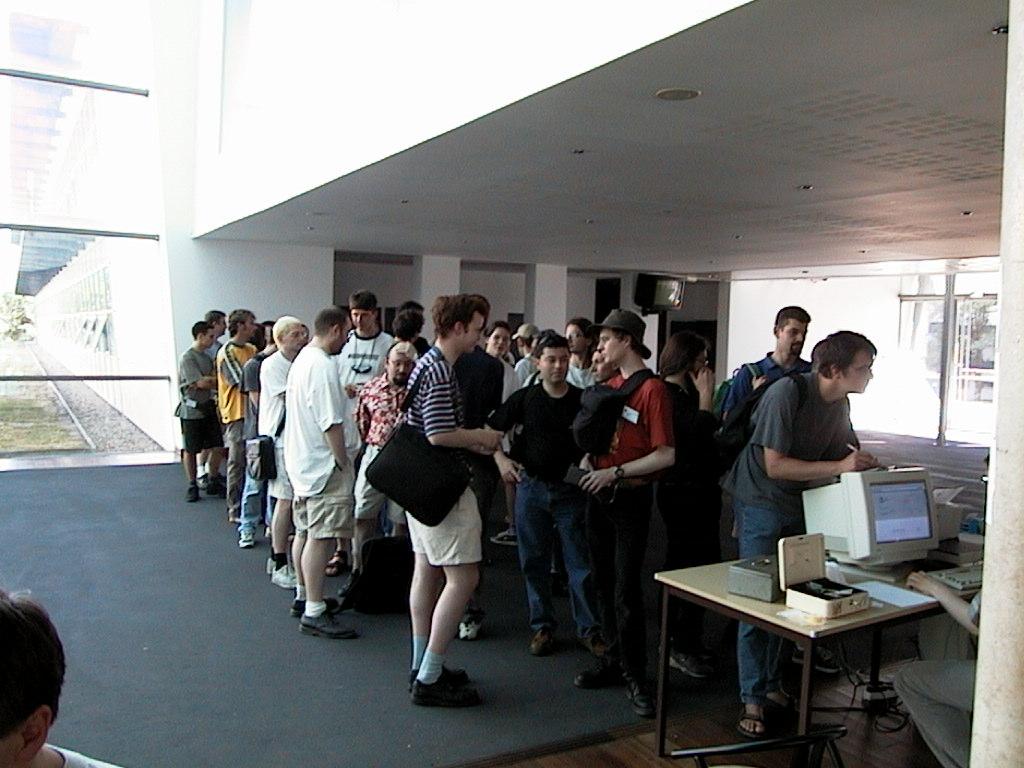 Debian is special.

It's thrived for so long.

It's governance is democratic: almost unique among Free Software projects.

It has stayed staunchly non-commercial since its inception.
---
(Photo is the combined registration line & impromptu keysigning party at DebConf1)
DebConf 1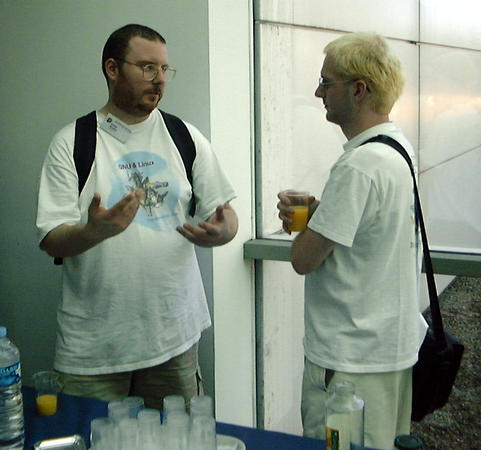 At Debconf 1 in 2001:

I still dressed pretty casually to conferences back then.

… so that changed: I'm not "in short trousers" anymore.
DebConf 1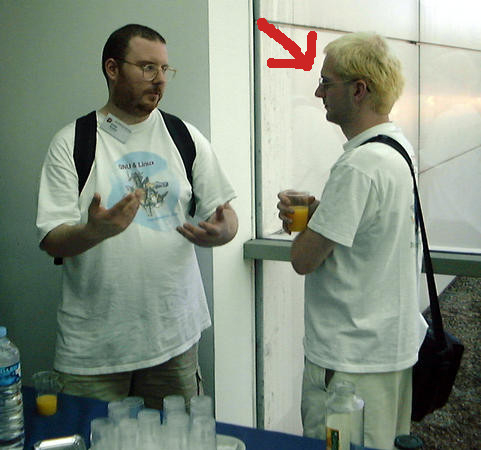 OTOH, most of the time, Martin still does look at me with that face that says: "You really don't know what you're talking about, do you?" :)
DebConf 1
Anyway, what certainly hasn't changed since DebConf 1 is the ethos of contributors, especially in Debian.
Morality of the Hobbyist Contributor
IMO, Debian is a project comprised first of people:

… who care enough to do what's right for others.
… who volunteer to do that.

Volunteers continue to believe this one fundamental tenant of software freedom development:

I'm a Debian contributor first …
… and an employee of my company second

Personally, I love being part of a community that thinks this way.

In my experience, most Debian contributors feel the same way.
Debian as a charitable endeavor
Debian now has "trusted charities" around the world: SPI, DebConf e.V., Debian France, etc.

… & makes other partnerships with charities too (more on that in a few minutes).
---
… Bruce Perens spearheaded the effort to create Software in the Public Interest, Inc. — [o]riginally intended to provide the Debian Project with a legal entity capable of accepting donations.
Debian as a charitable endeavor
But, early Debian was an FSF project, BTW!
---
Debian was sponsored by the GNU Project of The Free Software Foundation … for one year – from November 1994 to November 1995.
From Our Humble Beginnings
---
I'm doing a (free) operating system (just a hobby, won't be big and professional like gnu)
— Linus Torvalds, Sunday 25 August 1991
From Our Humble Beginnings
Thus, the charitable tendencies of GNU, FSF, Debian, and (more recently) SPI and Conservancy were and remain perfect fit for creating, fostering, and defending democratic, developer-run community projects which are (mostly) under copyleft licenses.
How Things Have Changed
However, in so many projects, technical and political governance are now bifurcated.

Technical governance often remains under developer control.

Political governance (including licensing, legal & policy decisions) are primarily controlled by computer industry trade associations.
How Linux has Changed
For Linux, this situation is particular bad.
---
To navigate the ever-changing landscape of Linux, it helps to have someone who can point you in the right direction. That's where The Linux Foundation comes in. … [Among] Benefits of Linux Foundation [Paid] Membership: The right to vote … The right to participate
— Website of Linux Foundation (Linus' employer)
How Linux Has Changed
Thus, companies, not individuals, control organizational structure around Linux.

Companies and their trade-associations gate-keep governance decisions.
Many developers feel disenfranchised.

Conservancy (where I work) helps mitigate that.

not just having a non-profit mission, but with a charitable mission (i.e., commitment to always serve the public good).
Conservancy's GPL Enforcement
Software Freedom Conservancy (& other charities, like SPI & FSF) do …

… for the hobbyist developer …
… the morally right & sometimes controversial tasks …
… that developers need, but companies & trade associations never do.

For Linux, Conservancy enforces the GPL, because companies & trade associations won't.

It's just not in their business interest.

As I said at DebConf10: Debian has been a shining example of commitment to copyleft.
VMware Lawsuit Here in Germany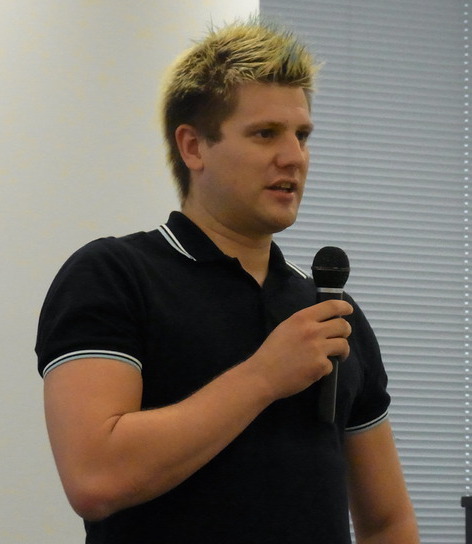 Conservancy is funding Christoph to sue VMware in Germany for violating the GPL.

No, sadly, I can't give you more details than are already in the FAQ on our website.
VMware Suit Draws Battle Lines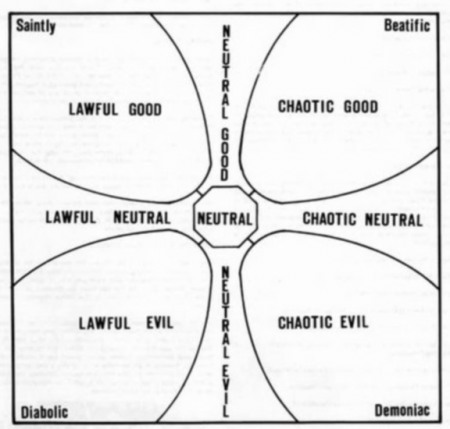 Renewed enforcement over Linux has changed much:

the for-profit industry and trade associations want to eradicate copyleft.
A personal commitment to copyleft, and willingness to act to defend it, has become more politically treacherous than ever before.

Copyleft's political opponents see the chinks in our armor and will exploit it.
Even Debian's Downstreams Violate GPL
Ubuntu's trademark policy violated GPL for over 2 years.

FSF and Conservancy worked arduously to resolve it.

The resolution that we reached last month yields GPL compliance via a trump clause.

But, non-copylefted software in Ubuntu is effectively proprietarized by their policy.
Toughest Challenges Are To Come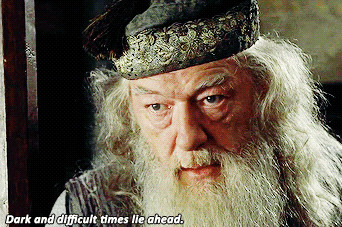 Dark and difficult times lie ahead … Soon we must all face the choice between what is right and what is easy.
— Albus Dumbledore Harry Potter and The Goblet of Fire by J. K. Rowling
Debian Matters!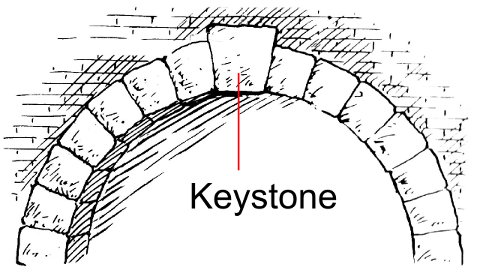 Debian is the strongest non-commercial upstream distribution.

Debian's insulated from pressure because of its long independent history.
But that pressure will eventually arrive.

Canonical, Ltd.'s proprietarization of Debian (and GPL violations before that) are its harbinger.
Debian Matters!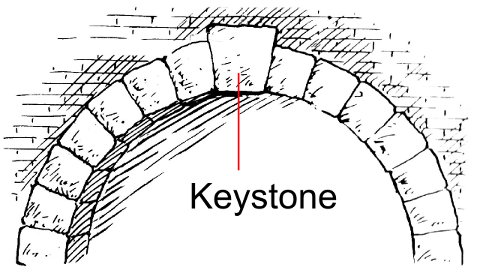 Debian is the keystone of Free Software.

It's the building blocks that other projects use.
The powerful & corrupt want to control the core infrastructure initiatives.
What Is Copyleft?
One way to view copyleft is:

A mechanism to leverage assets that shouldn't exist (and therefore no one should control) to maximize fair treatment to others.
c.f.: Freedom or Power?, my essay co-written with RMS in 2001.

Thus, copyleft uses the tools of the oppressor to stop oppression.

For copyleft's maximal effectiveness, we must consider using every tool in the arsenal that they use against us.

How can Debian better utilize these tools?
Debian Copyright Aggregation Project
The Debian Copyright Aggregation Project:

is a program of Software Freedom Conservancy (begun with permission from SPI).
permits individuals to optionally & configurably assign copyright to Conservancy on Debian-related works.
permits individuals to designate Conservancy as their copyleft enforcement agent.
provides Debian with licensing support and advice on an ongoing basis with a formal commitment.
exists b/c a key Debian contributor asked us to do it. (I'll reveal who in a few minutes).
Copyright Assignment?!?!?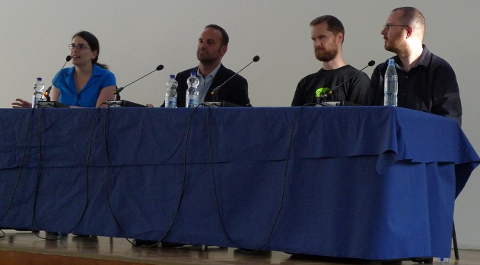 ---
I actually did vote for [it], before I voted against it.
— John Kerry, former USA Presidential Candidate and currently USA Department of State
Using CAA's for Good
We should use these tools (©AA's) for good:

only assign to charities with a stated mission to uphold copyleft for software freedom.
plus, Debian will always be multi-copyright held no matter what.

There are simple (admittedly sad) reasons this might be a good idea:
---
A foolish consistency is the hobgoblin of little minds, adored by little statesmen and philosophers and divines.
— Ralph Waldo Emerson, from Self-Reliance
Surprising Changes Happen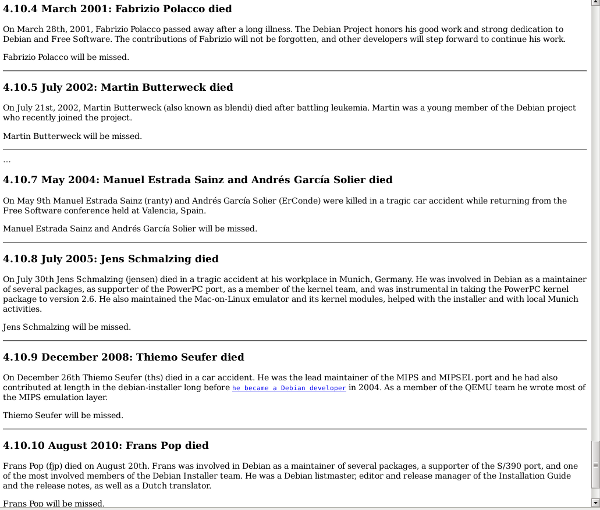 It's a fact that people die.

or just generally: people forget to take care of things they care about that aren't urgent.
The Copyleft Burden
Copyleft violations are so prevalent that it's hard for any one of them to be urgent at any given time.

If you care about copyleft, then holding your own copyrights is both a privilege and a burden.

For those who feel burdened: Debian copyright aggregation is for you.

& don't be ashamed to want to unburden yourself — ask Conservancy to help, after all …
Zack is the first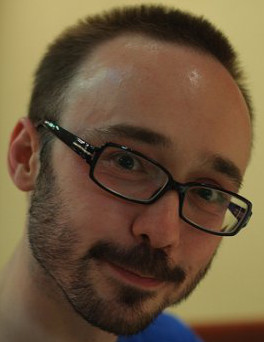 Dr. Stefano "Zack" Zacchiroli, former DPL, was the first to sign up.

Zack has assigned all his copyrights in Debian, past and future, to Software Freedom Conservancy, as of yesterday.
Zack is why!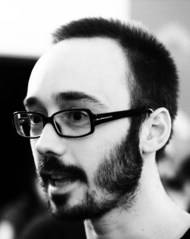 I urged Conservancy to work with Debian to create this program. Being a copyright owner on Free Software code is a privilege, but also a huge responsibility. Debian Developers have asked me for years a way to make sure some charity they can trust looked after their hard work and ensured Free Software licenses were upheld. Conservancy is the best partner I can imagine for this job.
— Dr. Stefano "Zack" Zacchiroli
Zack isn't alone.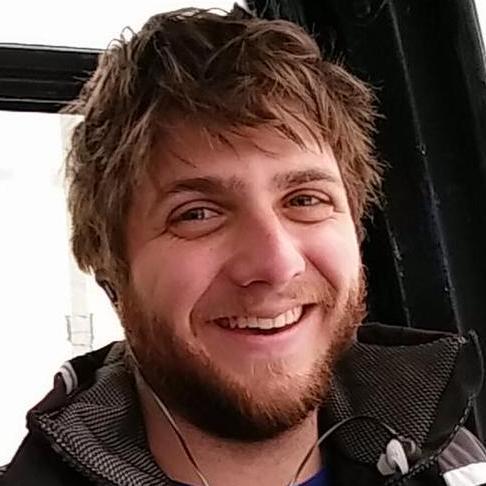 Paul Tagliamonte (paultag) has assigned a few (not all) of his Debian works to Conservancy via the configurable ©AA.
Zack isn't alone.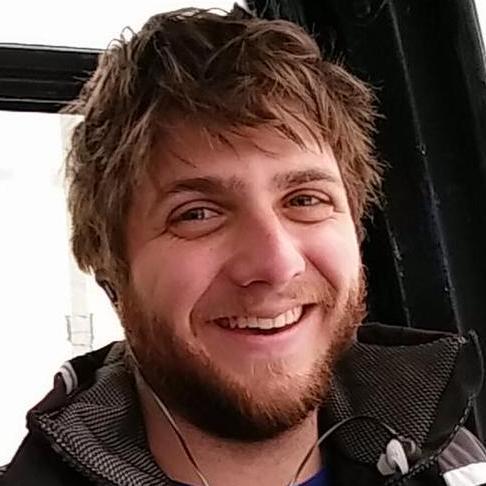 Aggregating copyright in Debian is a necessary step in ensuring the continuity of a truely maintainable Distribution, and ensure we are able to defend our works against infringement after people have left the project.
— Paul Tagliamonte
Zack & paultag aren't alone.
Others are planning to assign, including Asheesh Laroia and Clint Adams (who is otherwise extremely & correctly anti-CAA/CLA).
But, if you still hate ©AAs …
Conservancy also has individual enforcement agreements.

(already in use for Samba, BusyBox, and the GPL Compliance Project for Linux Developers.)

Similar enforcement agreements are available for Debian contributors who want Conservancy to enforce copyleft on their behalf, but don't want copyright assigned.

These can be canceled with 30 days' notice.

You can sign any of these agreements right here at DebConf!
What Else Does Debian Get?
Conservancy has agreed to offer regular licensing advice and general policy-related expertise on a monthly basis.

At least four hours/month are pro bono (i.e., no charge to Debian project funds).

Thus, Debian can now rely on Conservancy to help with licensing issues & questions for the long term.

I and Karen Sandler are two of the foremost experts on Free Software licensing, and are excited to provide this service to Debian.
What More Can I Say?
As a personal matter, for years I've wanted to give back to Debian, which has given me so much.
More Info / Talk License
URLs / Social Networking / Email:
Presentation and slides are: Copyright © 2015 Bradley M. Kuhn, and are licensed under the Creative Commons Attribution-Share Alike 4.0 International License.
Some images included herein are ©'ed by others. I believe my use of those images is fair use under USA © law. However, I suggest you remove such images if you redistribute these slides under CC-By-SA 4.0.