Non-Profit Infrastructure for Software Freedom
Bradley M. Kuhn
Saturday 22 October 2011
Who Am I?
Two official roles:

On Board of Directors of Free Software Foundation.
President and Executive Director of Software Freedom Conservancy.

Many of my views are influenced by these roles.

These are still my views, not those of these orgs or others.
Why Did People Write Free Software?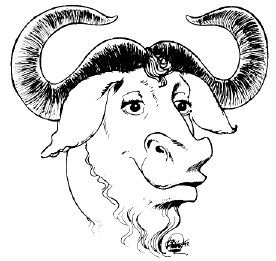 The Danger of Our Success
Where Things May Be Headed
FLOSS sometimes drifts toward for-profit corporate interest.

Or, it's purely thrown over the wall.

Project decisions are made by companies.
Software Freedom Governance?
Yet, corporate sponsorships are common and desired.

But for-profit control of projects can be dangerous.

Fedora vs. Ubuntu as Coke vs. Pepsi
Danger of For-Profits
For-profits act in interest in shareholders.

Those who care most about software are usually not shareholders.

Interests do align sometimes with software freedom community.

Common ground is needed so multiple for-profits can participate.
Non-Profits are Different
501(c)(3) non-profits act in interest of the public good.

Software freedom is best when in public good.

Non-profit orgs (NPOs) are best place for software freedom.

Provide a place to receive philanthropy

(e.g., a place for SoC mentor funds to go)
What Can NPOs Do?
Collect (USA-tax-deductible) donations for a project.

both individual and corporate.

Distribute that money to advance & improve project (and public good).

Make sure project isn't controlled by for-profit interests.

Help leadership with non-technical decisions.

Neutral ground when corporations sponsor.
Organization Proliferation
You can go your own way, but …

Too many NPOs will confuse donors.

Each needs a board of directors, incorporation, meetings, IRS filings.

Hackers end up doing work they hate.

Less Free Software gets written.
Aggregating Under Umbrella
Sometimes called a "fiscal sponsor"

it doesn't mean they give you money …
… but rather handle assets for you.

Many projects get same benefit of single non-profit.

Current 501(c)(3) options are:

Software Freedom Conservancy
Software in the Public Interest
Apache Software Foundation

Or, you can still go your own way.
Software Freedom Conservancy
Requirements:

Any license on both FSF's and OSI's lists.
Established project.
Evaluation by Board of Directors.

Key benefits:

earmarked donations.
basic developer liability protection.
basic legal services (incl license enforcement)
holding assets.
Software in the Public Interest
Requirements:

License meets DFSG.
Evaluation by Board of Directors.

Key benefit:

earmarked donations.
holding assets.
Apache Software Foundation
Requirements:

Apache License.
Must use SVN.
Must follow "Apache Way".
Incubator process.

Benefits:

Can apply for funding through Apache

(but no earmarked donations)

Technological infrastructure & hosting.
basic developer liability protection.
Going Your Own Way
Should only do this if you want to be a non-profit administrator

at least some of the time.
More Info and This Talk's License
More Info:

Conservancy: http://sfconservancy.org
SPI: http://spi-inc.org/
Apache: http://apache.org/

About me:

I co-host an oggcast, Free as In Freedom: faif.us
I'm on identi.ca: @bkuhn
I have a blog: http://ebb.org/blog
Copyright © 2010, 2011 Bradley M. Kuhn.


These slides, this talk, and audio/video recordings thereof are licensed under the Creative Commons Attribution-Share Alike 3.0 United States License.